Take your food photos to the next level using easy Photoshop retouching techniques (in minutes not hours)
Enhancing a photo without making it look fake is a skill.
It can take your images to the next level.
You too can create commercial quality images for your clients in less time.
Effective techniques that take minutes not hours.
What if you didn't have to lose that winning shot because of a tiny imperfection?
JUST IMAGINE…
Retouching wasn't difficult and didn't take you hours, or even days! You could easily remove the ugly parts without losing texture.
You could create what you had in your mind and didn't have to settle for something you love less.
You didn't have to pay someone to retouch your images for you, but instead you could charge your clients more for a premium retouching service.
Your images weren't rejected because of oil spots you couldn't remove.
You could easily clone the whipped cream on top of your hot chocolate and make the colour of your egg yolks consistent.
Let's…
Make an image look flawless.
I hear your frustrations!
"My images were rejected due to distractions and oil spots I couldn't remove."
"No one might notice, but not being able to remove that hair is driving me crazy."
"I tried to change it in Lightroom, but it looked worse!"
"I live in a small town and cannot always find the best looking and most fresh fruits and vegetables. There's always blemishes."
Have you ever been proud of an image only to start editing and notice a reflection, crack or a hair? It's deflating!

Retouching delivers a higher quality of work.
It's the missing link you need to give your images that little extra punch.
(But every time you open your Abode Photoshop package, you're immediately overwhelmed and you've given up even trying.)
Retouching can perfect those burger shots and provide more value to your client.
(Which means you can charge more money!)
This course provides you with fundamental Photoshop retouching skills to create picture-perfect food that looks natural yet well polished and will help you deliver higher quality work to your clients.
RETOUCHING FOOD PHOTOGRAPHY TEACHES THE RETOUCHING FUNDAMENTALS NEEDED TO FIX DISTRACTIONS AND PERFORM ENHANCEMENTS FOR FLAWLESS BUT NATURAL FOOD IMAGES.
WITH PHOTOSHOP.
Give your images that extra punch…
5 EASY RETOUCHING TECHNIQUES
Using these fundamental Photoshop retouching techniques, we'll teach you the best tools to use to remove the ugly parts of an image, while keeping a natural look without losing texture or detail.
You'll discover how easy it is to produce commercial quality images for your clients.
20 TOOL & TECHNIQUE DEMONSTRATIONS
The key to creating a natural and seamless blend is having a few 'go-to' tools.
Watch us use different tools on a range of images and situations to better grasp an effective retouching workflow.
UNDERSTAND LAYERS + MASKING
Work smarter, not harder, by getting savvy with how to best use layers and masks in Photoshop. Create small, editable files that use masks for effective and seamless corrections. Layer organisation will be your new strong suit.
No more 'no pixel selected' pop-ups that prevent you from working.
TOOL QUICK GUIDES
To save you time, you don't have to fast-forward through video after video to try and remind yourself which tools you need to use.
Our Tool & Technique Quick Guides will keep you from feeling overwhelmed. You'll know exactly which tool to use for the specific retouching you need.
INTEGRATE WITH
LIGHTROOM & CAPTURE ONE
Stay organised by learning how to integrate a Photoshop retouching workflow with your RAW editor of choice, like Lightroom and Capture One. Create editable files you can go back and edit time and time again.
If a client needs an adjustment, don't start over from scratch.
WORK ON RETOUCHING FILES
Practice is important. Put everything you're learning into practice by downloading and retouching example avocado images.
Here are the tools + techniques you're about to kick-ass with!
Make a second rate photo look top-notch with
Retouching Made Easy
Before and Afters.
Learn these crucial Photoshop techniques and deliver a higher quality of work.
Object + Reflection Removals
Reflections and distractions happen, but they don't have to stay.

Learn how to remove unwanted objects, distractions and reflections like a boss.
Composites are a key part of the commercial photography process.
Learn the different types of composites and how to build the perfect shot.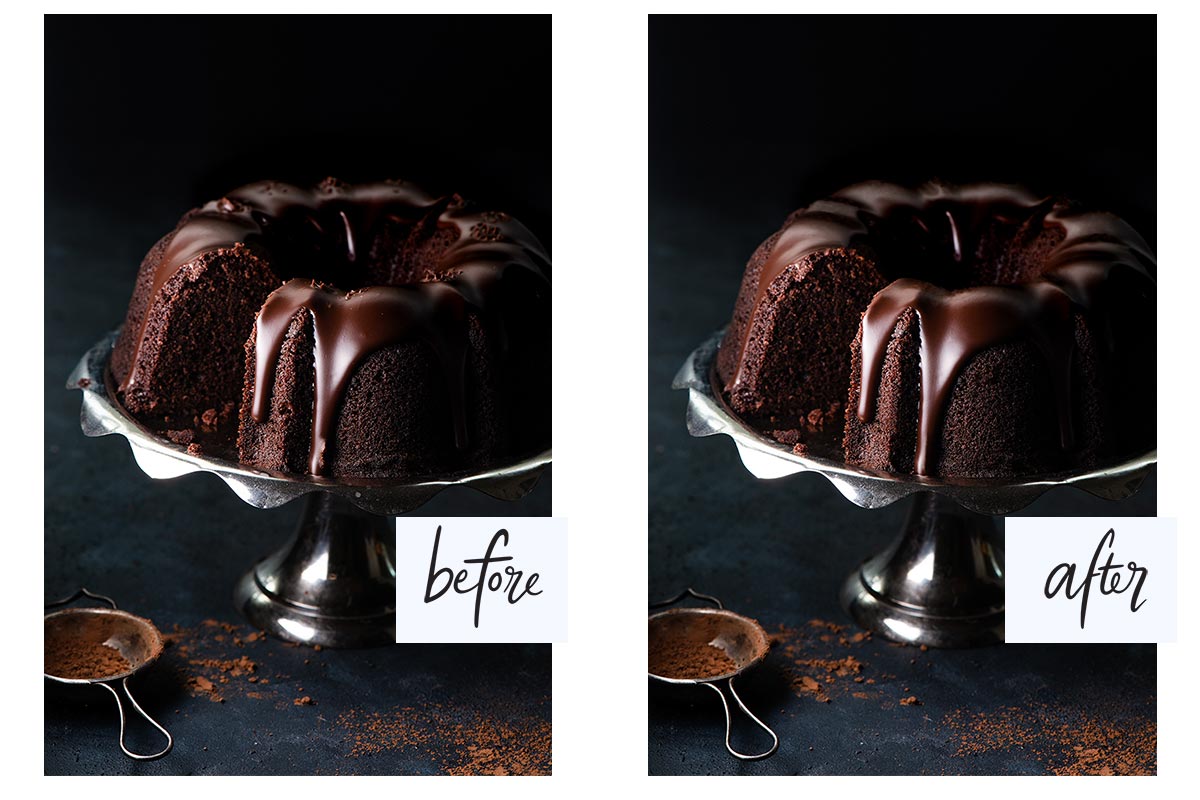 Understand the difference between imperfections and blemishes.
Find which tools to use to clean different types of blemishes in food and on backgrounds.
Elevate the details in food by making straightening and shaping adjustments using Free Transform, Puppet Warp + Liquify tools.
Don't let crooked lines bug you anymore!
Light + Colour Enhancements
Shape and define light using Dodge + Burn techniques, as well as making food stand out with colour corrections and enhancements.
You too can create commercial quality egg yolks + the perfect burger buns.
You too can get results like these.
CURRICULUM
This course will empower you to have Photoshop retouching at your fingertips, and provide your clients with a premium service.
We're going to focus on the techniques that the commercial world of food photography requires
(most of which you won't find tailored to food photography on the internet for free).
Here's the lowdown on the retouching you're about to learn in each of the 7 modules:
FOUNDATIONS FOR RETOUCHING
How Photoshop Works + Photoshop Workspace

Tool Introduction + Shortcuts

Layers, Masks + Brushes

Creating Assets + Plates

Saving Files + Integration with Lightroom or Capture One

Tool Quick Guides
REMOVING UNWANTED OBJECTS
+ REFLECTIONS
Methods of Removal

Removing Unwanted Objects

Removing Reflections
CREATING COMPOSITES
Methods of Creating Composites

Composite Photography – Building The Perfect Shot

Composite Photography – Lighting

Composite Photography – Aperture/DOF

Composite Photography – Plate Technique

Composite Photography – Create A Food Gathering
REMOVING BLEMISHES + CLEANING TECHNIQUES
Methods of Cleaning

Retouching Blemishes – Cloning

Retouching Blemishes – Healing + Patching

Touching Up Backgrounds
STRAIGHTENING + SHAPING
Methods of Modification

Local Free Transform

Puppet Warp + Straightening

Liquifying Subjects
COLOUR + LIGHT ENHANCING
Methods of Colour Enhancing

Dodge + Burn Technique PS Action

Changing Colour

Retouching Colour

Retouching – Dodge + Burn Technique
PRACTICE SAMPLES
Putting it all together with downloadable practice samples

Chocolate Cake retouching demonstration – start to finish
plus all this good stuff… the tools + techniques you're about to master
YOUR INSTRUCTORS
We're a husband and wife team who've worked as freelance and commercial photographers for over 10 years. With international experience, we've worked for a range of small businesses to multi-million dollar clients.
Both of us have a degree in teaching and have taught in the education system. Teaching comes naturally to us and we're excited to share our passion for retouching with YOU!


So whether you're photographing a delectable truffle dish or trying to make brown stews and lasagna look effortlessly beautiful…
Harnessing Photoshop tools will help you make sure every little detail is accounted for.
Retouching Food Photography
Photoshop feels overwhelming, and it's easier just to give up.

You're afraid professional retouchers will notice your mistakes.

Images are rejected due to imperfections.

Retouching that looks noticeably over-processed.

Fear that 'someone will zoom in close on that section'.

Discarding winning images due to stray hairs (human and animal!).

Spending days trying to fix objects that will annoy you forever.

Paying others to retouch your images for you.

Feeling embarrassed about telling a client you can't do what they need.
Retouching Food Photography
Photoshop is a breeze and retouching takes minutes, not hours (or days!).

Images are polished and flawless, yet natural.

No one can tell your images are retouched.

You're able to provide a premium service to your clients and earn extra money.

You get your business off the ground with confidence.

Remove tiny hairs, reflections, oil spots and unwanted objects like it's second nature.

Clone the whipped cream topping off your hot chocolate like it's nothing.

Make all of your egg yolks match and even out colour.

Smooth and remove indentations and dents from your burger buns.

Extend backgrounds and build perfect shots with composites.
Let's take your images to the next level.
Sign up now!
Entire Retouching Food Photography Masterclass.
All 7 Modules Containing Videos + Demonstrations.
Learn Core Photoshop Tools + Techniques.
Course Workbook + Quick Guides for each Technique.
Facebook Community for Students.
BONUS Dodge + Burn Photoshop Action.
Harness Layers, Masks, Brushes + plates.
Learn File maximisation + RAW Editor integration.
Two Instructors: 10+ Years of Combined Experience.
Downloadable Practice Images.
100% Focus on Food Photography.
One-Time Payment $297
Get access to the course and all 7 modules with a once-off
payment and save $43. USD.
PAY-IN-FULL & GET ACCESS TO:
BONUS Create GIFs in Photoshop lesson

BONUS Customise + Professional Workflow lesson
3 Monthly Payments $109
Get started with all 7 modules for less with three monthly payments. USD.
Need Lightroom Training? Enrol in the Super Editing Bundle here.
It's time to deliver professional-looking images.
You get access to all content instantly after signing up.
YOU GET 30 DAYS TO TRY OUT COMPOSITION ESSENTIALS.
IF YOU DON'T LOVE IT, I'LL GIVE YOU A FULL REFUND.
I'm confident that you'll LOVE this course and I genuinely want you to succeed, which is why I offer a generous 30-day money back guarantee. If you do the work, implement the core composition techniques for food and don't see any improvement to your work, simply let me know within 30-days if you'd like a refund.
An amazing photograph is never a fluke – composition is an art form.
It's time to be that food photographer that everyone flocks to for serious inspiration.
Who should join Retouching Food Photography?
Who this course is for
Food Photographers who are overwhelmed by Photoshop and are looking to get started with retouching or beef up their skills.

Hobbyist to intermediate or advanced photographers who can edit in Lightroom or Capture One.

Anyone who has had their images rejected due to imperfections.

If you're sick of spending countless hours fumbling with tools that make your images look worse.

Creatives who want to be empowered to know which retouching tools and techniques to use and when.

Those who don't want to lose a winning image due to an imperfection.

People who are sick of those little things annoying them and driving them crazy.

Photographers who want to add a premium retouching service to their business and charge clients more money.

Creatives who want flawless images that still feel natural and not over-processed.
Who this course is not for
Those new to editing who aren't able to process a photo in Lightroom yet (you'll want to start by taking Lightroom Magic – can't wait to host you).

Professional retouchers (you guys are the bomb and I know you've mastered these skills already!).

If you just want to learn Frequency Separation… that's a skill for a high-level course, my friend.

Complete beginners to food photography. This is a skill to master when you need to take that next step and level-up.

Any photographer who isn't interested in learning retouching and just wants to outsource and not save money.

Landscape, newborn or portrait photographers. We only cover food photography. You'd be best suited to find another course in your niche.
Got questions? Check out the FAQs.
Do you cover everything in Photoshop?
Photoshop is one of the most powerful programs photographers have access to. Its scope is huge! But you don't need to know everything to offer your clients a premium service and make your images look flawless. Head to the curriculum section to see what we cover. If you have any questions, email me!
I'm new to retouching. Is this course suitable for beginners?
This course is a good fit for those who are new or overwhelmed by Photoshop, as we ease you into foundational concepts at the start and then usher you through to more advanced techniques. You will, however, need to be competent in either Lightroom or Capture One to post-process, tone and colour correct your images. If you can't post-process at all, Lightroom Magic is the course to take before this one.
What version of Photoshop is this course taught in?
This course is taught in the latest Creative Cloud version. Older versions can be used as well if there is a feature or update that you can't use, just reach out in the Facebook group and we'll help you out.
How are the lessons delivered? How long do I have to take the course?
The course materials are shared as video content. We'll cover key ideas for each lesson, as well as lots of demonstrations. We share 'Quick Guides' to help you quickly and easily find the tools you need to use. There is also no time limit on the course, so you can learn at your leisure. Take in one new lesson a day or binge-watch. It's just like Netflix and fits with your schedule.
Can I do a payment plan?
You sure can. This course can be purchased for three monthly payments of $109 USD and is available as an option when you check out. You can get started today for less!
I've used Photoshop for years! Is there more to learn?

It really depends on your level. If you're a professional retoucher this course isn't for you. It is for you however if you've been using Photoshop for years but still feel overwhelmed, or your images look worse than before you retouched them. If you're not happy with your skills and knowledge then we'd love you to come and learn from us. We don't cover Frequency Separation as that's a high-level concept.
Is there a money-back guarantee?
You bet-ya! I genuinely want you to succeed, which is why I offer a generous 30-day money-back guarantee. If you do the work, implement the core editing techniques for food and don't see any improvement to your work, simply let me know within 30 days if you'd like a refund.
I don't shoot food. Should I still take this course?
I totally believe this course will help you take your photos to the next level. There are many ways to do things in Photoshop and learning from others is how we find what's best for our workflow. There are, however, nuances to food that other niches might not need to know. I highly recommend that if you don't shoot still life, it's best to find a course in your niche.
Want to learn how to edit in BOTH Lightroom & Photoshop?
You can bundle both Lightroom Magic and Retouching Food Photography by enrolling in the Editing Super Bundle. You'll get access to both masterclasses and save $97. Ready to be unstoppable? Enrol now.
But isn't retouching hard and time-consuming?
I get it. Photoshop is a powerful and complex program. It's natural to feel overwhelmed. But when you have someone walking you through some really easy ways to fix and correct mistakes and blemishes, you'll wonder how you ever created without Photoshop. You can learn techniques that with practice will take your workflow from countless hours to minutes. Not to brag, but I can remove something in 15 seconds flat with the right tool. That's proof it'll save you time.
If your question isn't answered here, click the little chat box and send me a message! I'd be happy to help.
JOIN ME
You can take your images to the next level and offer your clients a premium service. You just need to know the right tools to use and when to use them.
Picture-perfect is only a few brush strokes away.